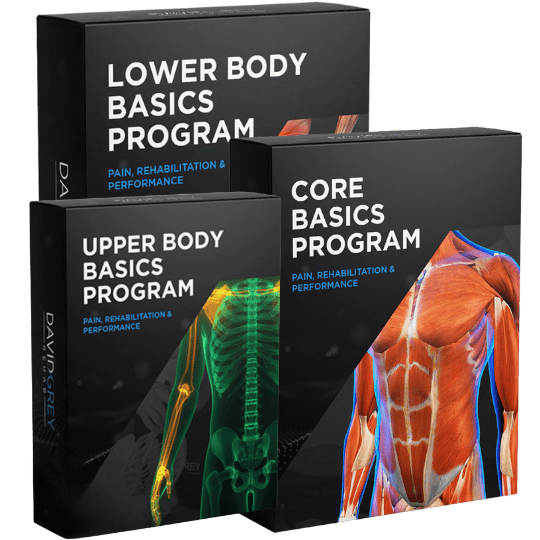 Not sure where to start? Check out our
links
page for some guidance
SEE WHAT
OUR CLIENTS
ARE SAYING
"I've had the injections, I've had all the adductor and all the hip work done, I've had the surgery; but the one thing that's fixed it [hip, groin and knee issues], the thing that's worked, has been the breathing [from Lower Body Basics]. It's fixed a lot of things. Trust me, it works!"
"Recovering from an ACL injury has given me the opportunity to target some areas that I would have neglected over the years due to the hectic GAA schedule. David quickly put a plan in place to work on these specifics and the improvements, even over a short few weeks working together, have been excellent".
"I can't put into words how thankful and grateful I am to David. When I started I was in constant pain. I was limping, waking up with pain at night, even had trouble putting on my socks in the morning. Now I am managing to train twice a day with sessions I never thought possible in hopes of olympic qualification".
"LBB1 & 2 make up a large part of my weekly rehab routine. Despite a Hip impingement / Labrum tear and pain throughout every day life and sports, they have enabled me to return to training relatively pain free and allowed me to do more of the things that I love".
"I could not have been more blown away by the rabbit hole david's programming opened in my head. Doing the program myself helped to resolve years of ongoing knee issues, lower back pain and neck irritation, as well as helping me to understand the importance of breathing, the rib cage and the pelvis.
"After a failed surgery, I contacted David to see if he might be able to help with serious shin pain that I suffered with for a number of years. After two sessions my pain was almost non-existent, and after 2 months I was back jumping without pain for the first time in 5 years".
"David has been a tremendous source of knowledge for me in my last few years as a coach, and athlete. My time learning from him has made me a much better coach"​.
"David's knowledge and attention to detail is exceptional. The difference his work has had on my gym work, my running and how my body feels on a daily basis is huge. The breathing, ribcage & pelvis work is a game changer!"
Join the 800+ other therapists and coaches on the world's best biomechanics education platform.
Workshops
Would you like to know more about our methods? Would you like us to come teach your team?
Listen in as David and his guests dive into all things movement, biomechanics, pain, rehab, strength & conditioning, and business.
New episodes added weekly.